ABOUT ANDREW DAVIS

For me, fishing and especially fishing with friends is just a small part of the enjoyment of Angling. The scenic landscapes, the creatures of the river bank, the meandering rivers, catching a glimpse of a Kingfisher as it flys past. Then there's the tackle, the old reels, the floats, landing nets, the books, forums, websites, magazines, videos, tackle auctions, tackle fairs, the characters and of course the cane rods, this is what fishing means to me.
Yes of course, I am a bit of a tackle nut and in all the time I have been involved with traditional tackle I have met and dealt with a lot of people and I can honestly say you won't find a nicer bunch.
I've been coarse and, more recently, fly fishing for over 30 years. Angling is a passion that drives me to fish once or twice a week. I have three of the loveliest rivers on my doorstep; the Dove, Derwent and Upper Trent. My favourite style must be long trotting the Dove for Grayling with a Classic Wizard ansd a 3½ inch pre-war Aerial. I'm still waiting for a two pounder. I enjoy every minute of this passion which encapsulates our rich and varied countryside.
A CRAFTSMAN WITH CANE
I think it was in 1988 when my work colleague, who knew I was an avid angler and keen on whipping and repairing old rods, gifted me an old paperback book 'Rod Building for Amateurs' by Richard Walker. This was the catalyst which sparked my interest in split cane rods.
Since 2010 I have devoted my time to crafting bespoke split cane rods for an ever increasing number of anglers who wish to use bamboo as the material for their fishing rods. I have to admit that since I turned full time rod maker a passion has turned my working life into an absolute joy, I feel I have joined that lucky bunch whose work is their passion.
The learning curve over these past few years has been wonderful, and I now feel my coarse rods and fly rods are testament to this, of course a lot has been learnt through investigation and a good amount of trial and error. Plus, I have gained great knowledge from other craftsmen who have been most helpful over the years. From a personal note I am very pleased with the advancement of my engineering skills!
So if you're looking for a functional, traditional fishing rod with quality and beauty that's amongst the best available today I am sure I can help you.
HOW MY CANE RODS ARE BUILT
Construction

Let's start with the raw material, Tonkin Bamboo, the magical grass. I select the highest quality available, clean, straw coloured, free from bugs and bad water marks. I bake the bamboo over an open flame this, will chase out moisture and give the bamboo the required colour. Baking also gives those fibres the steeliness and resilience to keep bending back and forth. Special attention is given to straightening the stripes including nodes, which are pressed and sanded flat, it's common knowledge that having a straight grain is much superior than sawing across the grain.
Once the strips are straight they are hand planed in hardwood forms until they are ready for final shaping. They are then baked again, in an oven for a specific amount of time, this will dry out the correct amount of moisture, critical, especially on lighter cane. Final planning is carried out on metal adjustable forms, the accuracy is equal if not better I am sure than having them milled by machines. I also use modern waterproof glues which are much superior than any that your antique rods were glued with, so as long as you look after them they will last a lifetime or two!
Finishing touches
Only Flor grade Portuguese cork is used for the handles, results are beautiful and faultless.
Guides are chromed stainless steel, butt and tips are amber agate in style (as long as they are available). Ferrules are made from drawn hard brass, nickel silver are standard on fly rods and available on some coarse rods if requested.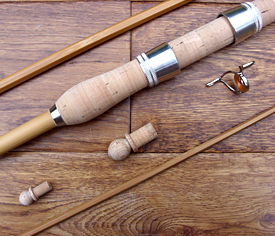 I have large stocks of vintage burgundy elephant thread as well as modern Japanese silk thread. Its quiet a personal choice picking the right colour, I offer guidance towards the most popular colours. Most of the varnish used is polyurethane, its brighter, flexes very well, is tough and doesn't fade. Several coats are applied, each one is keyed and results are a perfect hard smooth shiny finish. Some clients may also want personal text on the rod, this along with the rod name is applied with Indian ink.
Finally hardwood ferrule stops and a traditional makers cotton rod bag is supplied. Fly rods come with a alloy tube.
CARING FOR YOUR CANE ROD
Your rod will last for many years if looked after properly. Here are some do's and don'ts…
If the rod is wet or damp, wipe down with a soft clean cloth before putting it away in its bag.
When transporting. It is a good idea to place a plastic rod tube in your rod holder, it will save your rings from damage.
Make sure you don't store your rod in a wet or damp rod bag. Store it in a rack or lay it on a flat surface. You can hang your rod in the bag using the loop at the bottom. Do not store next to a radiator or in an airing cupboard.
Do not lean the rod against a wall, it will take a set.
The ferrules need to be kept clean and dry. If there is any dirt on them you must wipe off with a wet cloth and then dry them. The ferrules must never be lubricated as this will attract dirt.
Pulling the ferrules apart should be done grasping them so your thumbs meet together then pull apart. Try not to twist them apart as this could twist and damage the split cane.
If you get snagged when fishing, apply pressure with the rod at a lower angle. If still snagged try tapping the rod, if that doesn't work you will have to pull the line free by hand or with the rod pointing at the snag. If you don't follow this procedure you could stretch the bamboo fibres resulting in a set and ruining the rod.
Use a long landing net pole when playing fish to the net, the rod wants to be at a low angle. You don't want the rod above your head when landing fish, this puts too much pressure on the tip. It's the same when playing big fish; use the more powerful section of the rod at a low angle. On the Barbel rods, when playing good fish you can rotate the rod and play the fish with the rings on top. This evens out the pressure on the rod.
When walking along the bank the rod should be pointing behind you with the tip clear of the foliage, this will save you stabbing the ground and snapping the tip.
Keep you rod and cork handle clean by washing with soapy water.
Accidents do happen, if you damage your rod or need any advice please feel free to get in touch, I will do my best to advise or repair.